24 Hours a Day Seven Days a Week 844-LifeChange (543-3242)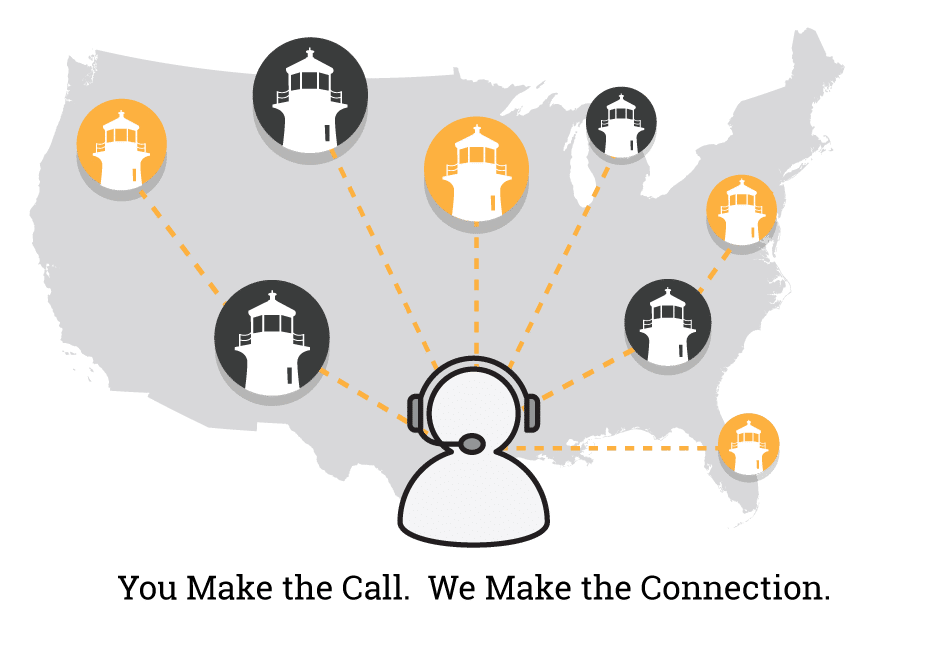 Many people today feel lost, confused, and unsure of their future. Drug and alcohol addiction, emotional struggles, and psychological disorders are all issues that can lead a person away from the path of happiness and fulfillment, and leave them depressed, angry, and in need of help.
There comes a point in every person's life when they feel like they are unable to find their way in this world. Are you struggling right now? Are you wondering how you got to where you are and where you truly belong? Do you question your potential and wonder if you will ever be happy again? Asking for help is the best way to stop the confusion and get back to living the life you were designed to live. Lighthouse Network can help.
We Can Provide Guidance for Addiction and Mental Health Treatment
Lighthouse Network is an organization that was created to help individuals as they weather the storms of life. We provide help and counseling for substance addiction and mental health disorders through our faith-based services and referrals. We have assembled a comprehensive database of the best treatment centers in the nation, and we can help connect you to the one that is right for you. We also provide educational resources to help you and your loved ones understand addiction and mental health disorders, so you can be better prepared to manage them. We provide guidance through our devotions (Stepping Stones) for those looking for strength from God's word to manage their emotional pain.
Call Lighthouse Network's addiction hotline at 844-LifeChange (543-3242) to find the help you need today. No problem is too big or too small – we are equipped to find and provide the resources you need to get through the challenges you are facing today. We are available 24 hours a day, seven days a week. Our consultation services are completely free of charge.
Call Our Toll Free Addiction Hotline
Our caring and compassionate Lighthouse Network Care Guides will listen to your problem and help you come up with real solutions so you can get back to your life, renewed with the confidence that God is guiding and directing your life. Our addiction hotline has helped thousands of individuals achieve lifelong results.
Lighthouse has established relationships with some of the best treatment providers in the nation. We can use our knowledge and experience to find the program that will be best for you and your needs. Finding the right kind of treatment can be difficult, but by calling us, you let us do the work for you. Call our toll-free drug abuse hotline today to find the resources you need to get clean.
If you or someone close to you is suffering with an addiction or mental health issue, don't wait. Contact our crisis hotline at 844-LifeChange (543-3242) to find help today.
* Lighthouse Network is legally required to report abuse or danger for your safety/well being and the safety and well-being of others.