Schizophrenia
Schizophrenia is characterized by experiences or thoughts that are outside reality. These thoughts can affect your emotions, thinking, relationships, and decision-making. People with schizophrenia often display symptoms including disorganized speech or behavior, hallucinations, or delusions.
The treatment of schizophrenia centers on managing the symptoms because there is no cure for the disorder. Psychotherapy for schizophrenia is a type of talk therapy that helps to manage and understand the symptoms.
In this article, we will discuss psychotherapy and psychosocial treatment for schizophrenia in psychology.
Psychotherapy Treatment for Schizophrenia
Counseling practices for patients who have schizophrenia have proven to be significant. The patient requires skilled professional help from a psychologist. Therapists are well-trained in their respective fields to communicate with patients of schizophrenia.
Here are some of the treatments for schizophrenia in psychology that can help the patient achieve full potential in their lives.
Treatments for schizophrenia in Psychology
People with schizophrenia are often hard-wired to respond reactively to social rejection and uncertainty. They have a high expectation of getting what they want and interpret anything less than as a sign of failure or neglect. Knowing this, it's critical to provide appropriate psychoeducation – education designed to help these patients understand what is important to them, how their views of the world differ from others, and how their feelings about society affect them.
Treatment for schizophrenia in psychology is centered around educating patients and their families about the causes of schizophrenia and providing a forum for discussion and educational interventions. This treatment has two parts. The first part provides information to patients and their families about the diagnosis and life problems associated with schizophrenia. This includes information about the disease, treatments, and prevention, as well as case histories and life steps towards recovery. In addition to this, information about effective prevention strategies is provided. The second part of the project provides educational materials for patients and their caregivers, enabling them to make better decisions about their treatment.
Psychotherapy Treatment for Schizophrenia
The clients require a good relationship with the therapist for psychotherapy to work efficiently for people with schizophrenia. Some types of psychotherapy treatments for patients diagnosed with schizophrenia are as follows.
Individual Psychotherapy
The therapist teaches the person ways to deal with their behaviors and thoughts. The client learns about their diagnosis and how it affects one's life, alongside recognizing the difference between reality and imagination.
The one-to-one sessions focus on past and current problems experienced by the client, thoughts, relationships, and feelings. When people with schizophrenia share their experiences with a mental health professional, they understand their issues and learn to sort the distorted world from reality.
Cognitive Behavioral Therapy (CBT)
Cognitive behavior therapy can help the person change their thinking and behavior. CBT is a type of psychotherapy treatment for schizophrenia that allows them to deal with hallucinations and delusions.
The CBT sessions are practical because they can reveal the triggers of psychotic episodes and how the professional therapist can work with the client to reduce them. Cognitive behavior therapy can act as a psychotherapy treatment for schizophrenia because:
It helps the patient feel less distressed about the psychotic episodes
Lowers the feeling of anxiousness and depression
Reduce smoking, alcohol, or drug use
Assists to deal with suicidal thoughts
Overcome the feelings of hopelessness
The Faith-Informed Treatment Model
A faith-informed treatment model is a cognitive-behavioral approach for psychotherapy of patients with schizophrenia. The behavioral interventions give positive and effective outcomes when they incorporate the principles from developmental psychology.
The interventions utilize a holistic approach for managing the distorted beliefs of the client. The therapist works to calm and relax the body/ mind of the client. The therapists assist them in elevating executive functions and rewriting the narratives of life.
Cognitive Enhancement Therapy (ECT)
Another name of ECT is also known as cognitive remediation. The ECT teaches people with schizophrenia to improve their social cues, attention, memory and formulate their thoughts.
It also assists people in recognizing their triggers and social cues that lead towards the symptoms of schizophrenia. Programs are available that help you work on your interactions with people, leading us towards psychosocial treatments for schizophrenia.
Why Call the Lighthouse Network?
Caring, experienced, and expert staff who will find and help you get the right treatment you need
More than 5,000 outpatient and 300 residential options offering a faith-based approach for your need
Options for all payment types – PPO, HMO, Medicare/Medicaid, plus luxury or low-cost self-pay
A range of specialty services and resources for any addiction or psychological struggle/need
Dedication to help all motivated callers, irrespective of their insurance or financial struggles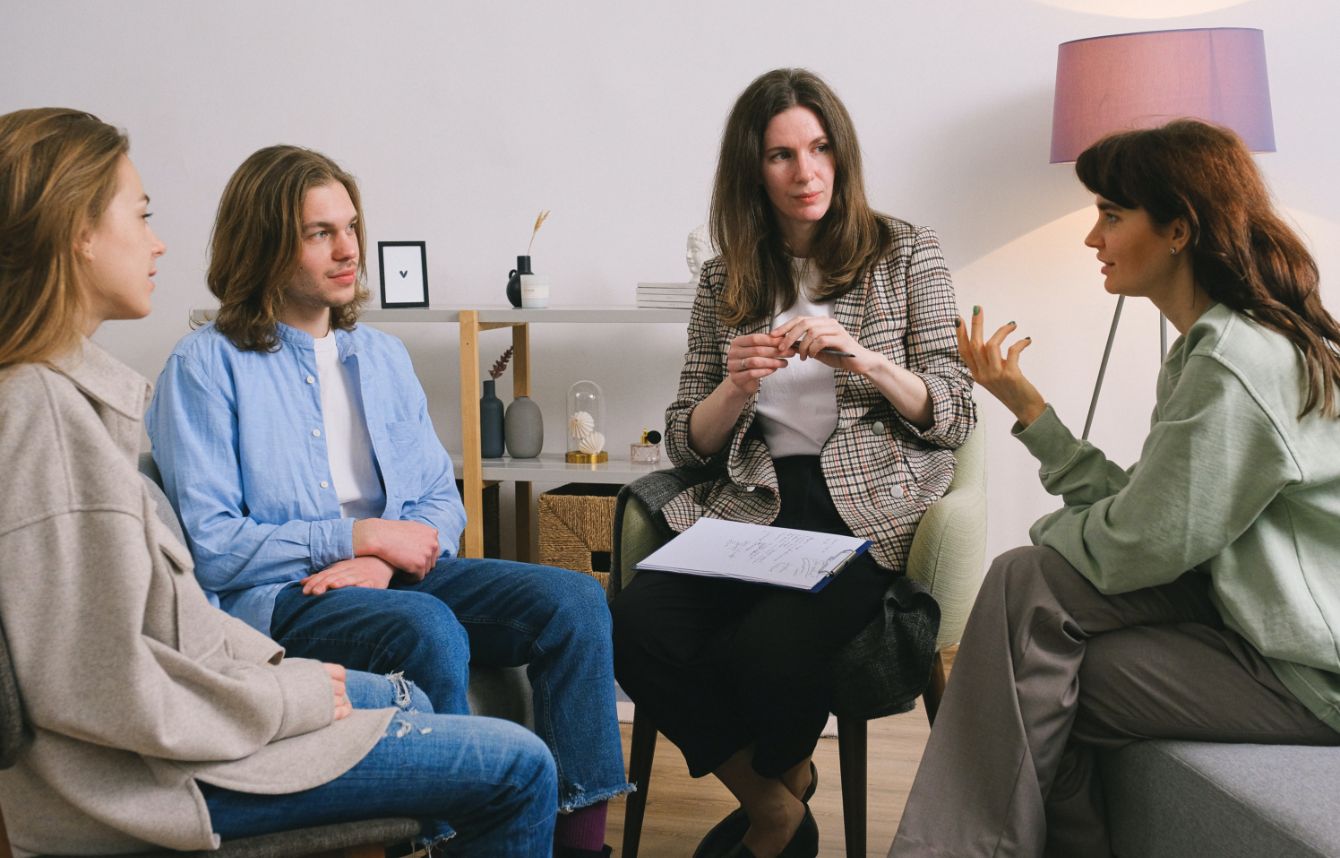 Types of Psychosocial Treatments for Schizophrenia
When people with schizophrenia observe improvement during the psychotherapy sessions, it is suggested to move towards psychosocial treatments for schizophrenia because psychosocial interventions can help them build relationships with the community and learn to interact with people around them.
Social Skills Training (SST)
The social skills training aims to improve social interactions and communication. Using the principles of behavior therapy, this type of psychosocial treatment teaches assertive and communication skills and skills related to managing the disease to clients.
Practice and learning skills are essential aspects of SST. Usually, the social skills training is done in small groups, and the skills are broken down into discrete steps, which are demonstrated by co-therapists. The clients learn these skills by modeling from the therapists in role-plays, and constructive feedback is provided to each individual after their role play.
Family Education
Family education is an essential aspect of psychosocial treatment plans for schizophrenia as it can help family members and friends. The support system from family helps improve the symptoms, and the encouragement of friends assists in dealing with problems in life.
Self-Help Groups
People with schizophrenia require an improvement in their psychosocial personality. Therefore it is crucial to participate in self-help groups in the community. The sessions involve 8-10 sessions for adults with schizophrenia who want to learn about their condition and share experiences with loved ones
Coordinated Specialty Care (CSC)
It is a team approach that is beneficial for people experiencing initial episodes of psychosis. A combination of approaches focuses on employment and social services, and it can include family support as well.
Coordinated specialty care aims to change the prognosis and direction of the disorder by improving the symptoms in the early stages. Evidence suggests that people with schizophrenia who seek early intensive treatment show long-term results.
Assertive Community Treatment
Assertive community treatment offers personalized assistance for people with schizophrenia to meet the challenges in their daily lives. The assertive community professionals assist the clients in handling and managing their problems and acting decisively to prevent psychosis episodes and prevent the crisis.
Acceptance and Commitment Therapy (ACT)
Acceptance and Commitment Therapy has the goal to improve the relationship of the patient with their thoughts. It also boosts the feelings and acceptance of the clients in a mindful and non-judgmental way.
The patient recognizes their mental processes and thoughts to adopt strategies to cope with their symptoms before they worsen.
Rehabilitation
Schizophrenia develops over the years when people are building their careers. Therefore, rehabilitation might require problem-solving support, job counseling, and education for managing money. Individuals with schizophrenia need daily help for living related to housing, jobs, self-help groups, and managing crises.
Social Recovery Therapy
Social recovery theory targets to help people with schizophrenia to set and achieve their goals. They can build a sense of optimism and positive beliefs about themselves and other people.
Conclusion
People with schizophrenia tend to have low self-esteem and low confidence in their abilities. The issues with self-worth and self-esteem can quickly develop into anxiety and beliefs of an unreal world. Thus, it is essential to identify the processes of the disorder to gain an insight into the situation to provide psychotherapy for the treatment of schizophrenia in psychology.
As discussed, there are many psychotherapy and psychosocial treatments for schizophrenia related to cognitive training and social skills building. Each therapy plan has specific and unique goals to help the client manage the symptoms and improve the quality of life.
Many insurance providers cover our residential options












Call us today to reclaim your life!
Copyright © Lighthouse Network All Rights Reserved
Copyright © Lighthouse Network | All Rights Reserved