Restoring the Heart Ministries is a partner organization with Lighthouse Network dedicated to reaching women and men who have suffered the trauma of sexual abuse, the pain of abortion, suicide, and other traumatic life events.
Learn more about founder, Julie Woodley.
Contact Julie for a speaking engagement.
Resources from Restoring the Heart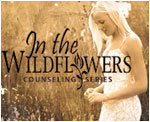 In the Wildflowers is a 10-part video curriculum developed for someone who wishes to facilitate a group of people that have experienced the pain of childhood sexual abuse. Each session features Julie Woodley along with other Christian counseling professionals who focus on a particular stage of the healing process.
This resource is for women who have suffered the trauma of childhood sexual abuse as well as anyone who may have encountered varying degrees of violations in their childhood and youth. Through a 10-step process, In the Wildflowers offers caring, understanding and hope to victims.
Into My Arms is 10-part video curriculum designed for counseling professionals and lay people to lead individuals through the forgiveness journey after having an abortion. This curriculum features counseling experts, such as: Dr. Theresa Burke, Dr. David Reardon, Dr. David Stoop, Dr. Gary Oliver, Dr. Diane Langberg, Dr. Jeanette Vought, John Eldredge, and many more. This series also includes compelling stories offered by women who discuss their life after having an abortion.
 "Into my Arms"  Promo Video

For details and purchasing information, click here.
For more information about Restoring the Heart Ministries, visit: https://www.rthm.cc
Into My Arms Luncheon  (4-6-12)
Lighthouse Network and Timberline Knolls where happy to host a training luncheon for local christian leaders at Maggiano's Restaurant in Philadelphia to introduce the new ground breaking curriculum "Into My Arms".    Please take a few minutes and watch the following videos of Karl Benzio Introduction and the two part video of Julie Woodley discussing the creation and impact of "Into My Arms".
Introduction by Karl Benzio at Into My Arms Luncheon (4-6-12)

Julie Woodley discusses about Stepping Stones Daily Devotional and Into My Arms

Pat 2 of Julie at Into My Arms Luncheon talking about Into My Arms.