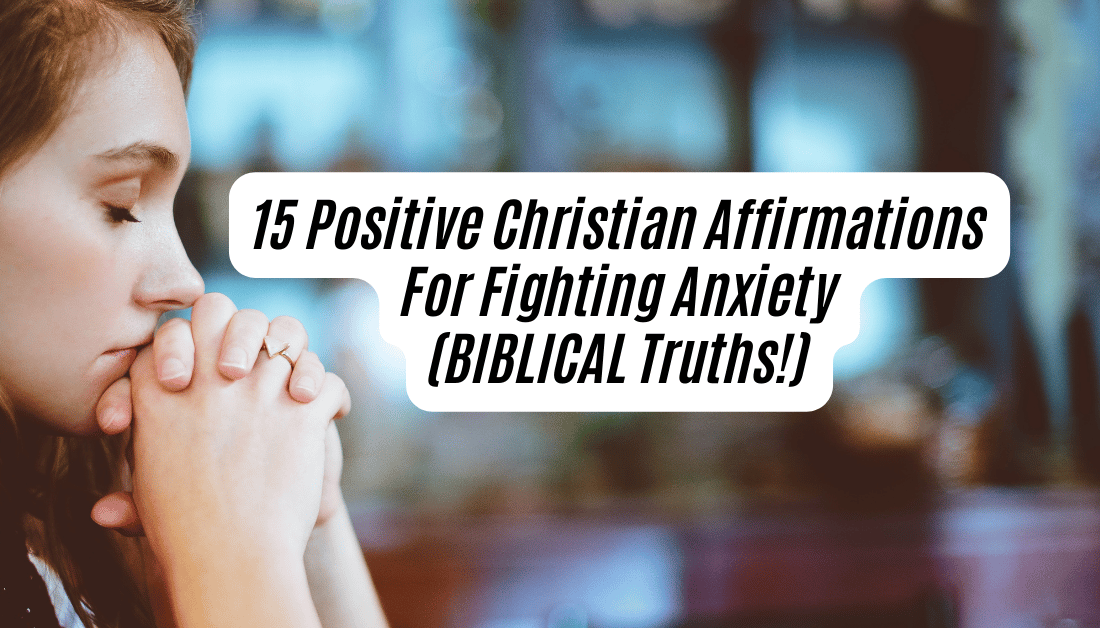 Your words are more powerful than you think — they can hurt but can also heal. If you're struggling with anxiety, panic attacks, depression, and sleep problems, you can use Bible verses and daily affirmations to help experience the peace of God.
Christian affirmations for anxiety let you regain your strength, discard negative thoughts, develop a positive mindset, stop anxiety, and calm your heart and mind. Examples of biblical affirmations to overcome anxiety include "I cast all my anxieties and worries to the Lord who loves and cares for me," "When I feel anxious, I take refuge in the Lord Jesus Christ where I feel safe and protected," and "When I feel overwhelmed, I cry out to God and find safety."
How To Use Biblical Affirmations For Anxiety Effectively
Wondering whether Christian affirmations really help calm anxiety and fear? Yes, they do! By repeating powerful affirmations based on the word of God, you're also welcoming positive changes in your life.
You're letting in new thoughts — thoughts of peace — to your subconscious mind. You're showing your trust in God's plan for your life. Moreover, these positive statements help enhance your self-esteem and overcome anxiety. The power of affirmations based on God's truth works in ways that may not be fully comprehensible to the human mind, but can be witnessed, nonetheless!
To help you maximize the benefits of biblical affirmations on anxiety, make sure you're in a comfortable, distraction-free area. It can be near nature, at your home, or anywhere you think will let you focus.
To build a better ambiance, you can also play soothing music. Consider writing your affirmations with your own hand, so you can remember them well. You can also use an audiobook or listen to a video. Just make sure you can quickly access them.
Before starting your daily scriptural affirmations, give thanks and praise to the Lord Jesus Christ first. Ask the faithful God to be with you while you incorporate powerful affirmations into your daily life and try to overcome anxiety.
While saying your spiritual affirmations out loud, focus on your breath and make sure to remain present. Stop for a while if you encounter an affirmation that is impactful and relatable to you. Absorb it and thank the Lord for allowing you to receive it well.
After finishing your affirmation session, take some time to contemplate your feelings. Do you feel better and less anxious? Have you felt God's love? Do you feel valued and renewed?
Stay aware of your feelings and emotions before and after the affirmation session so you can appreciate the power of positive affirmations and make it part of your daily routine.
Biblical Affirmations That Help Calm Anxiety and Fear
Embracing biblical truth helps you overcome fear, anxiety, depression, and other mental health conditions. Through God's word, you are reminded that He loves you and He is with you. Repeat these Bible-based affirmations and believe that they're true.
1. I surrender to God's love and power. I let go of all negative emotions of fear.
"For God has not given us a spirit of fear, but of power and of love and of a sound mind." (2 Timothy 1:7)
2. I am Jesus Christ's friend. His love for me is so great that He gladly laid down His life for me.
"No one has greater love than to lay down one's life for one's friends." (John 15:13)
3. I cast all my anxieties and worries to the Lord who loves and cares for me.
"Give all your worries and cares to God, for he cares about you." (1 Peter 5:7)
4. I will not worry about the future. God knows His purpose for me and I know He will fulfill it.
"For I know the plans I have for you," declares the Lord, "plans to prosper you and not to harm you, plans to give you hope and a future." (Jeremiah 29:11)
5. The Lord hears me and answers me when I call Him.
"Ask and it will be given to you; seek and you will find; knock and the door will be opened to you." (Matthew 7:7)
"I prayed to the Lord, and he answered me. He freed me from all my fears." (Psalm 34:4)
6. When I feel anxious, I take refuge in the Lord Jesus Christ where I feel safe and protected.
"He shall cover you with His feathers, and under His wings you shall take refuge; His truth shall be your shield and buckler." (Psalm 91:4)
7. When I feel overwhelmed, I cry out to God and find safety.
"From the end of the earth will I cry unto thee, when my heart is overwhelmed: lead me to the rock that is higher than I." (Psalm 61:2)
8. I may have trouble in this world, but in God, I have peace, for He has overcome the world.
"I have told you these things, so that in me you may have peace. In this world you will have trouble. But take heart! I have overcome the world." (John 16:33)
9. I am not afraid of anything people do to me because I trust the Lord.
"When I am afraid, I put my trust in you. In God, whose word I praise — in God I trust and am not afraid. What can mere mortals do to me?" (Psalm 56:3-4)
10. I make the Lord my focus and place my trust in Him, and He will embrace me in perfect peace.
"You will keep him in perfect peace, whose mind is stayed on you, because he trusts in you." (Isaiah 26:3)
11. I am anxious for nothing. I pray to the Lord who always answers me and experience the peace of God.
"Be anxious for nothing, but in everything by prayer and supplication, with thanksgiving, let your requests be made known to God; and the peace of God, which surpasses all understanding, will guard your hearts and minds through Christ Jesus." (Philippians 4:6-7)
12. I will not be afraid because the Prince of Peace is with me all the time.
"Peace I leave with you, my peace I give unto you: not as the world giveth, give I unto you. Let not your heart be troubled, neither let it be afraid." (John 14:27)
13. I will remain strong and courageous during difficult times for Christ Jesus is with me wherever I go.
"Have I not commanded you? Be strong and courageous. Do not be afraid; do not be discouraged, for the Lord your God will be with you wherever you go." (Joshua 1:9)
14. I am totally and perfectly loved, so all my fears are gone.
"There is no fear in love. But perfect love drives out fear, because fear has to do with punishment. The one who fears is not made perfect in love." (1 John 4:18)
15. I do not have to be afraid because God will uphold and strengthen me.
"Fear not, for I am with you; be not dismayed, for I am your God; I will strengthen you, I will help you, I will uphold you with my righteous right hand" (Isaiah 41:10)
Final Thoughts
Anxiety can be detrimental to our daily lives, health, and general well-being. Fortunately, affirmations based on Bible verses are a powerful tool to embrace the truth of God and find inner peace, strength, and courage.
Remember that the love of God can heal an anxious heart. Thus, perform these positive declarations on a daily basis to let go of fear and anxiety and live in peace.