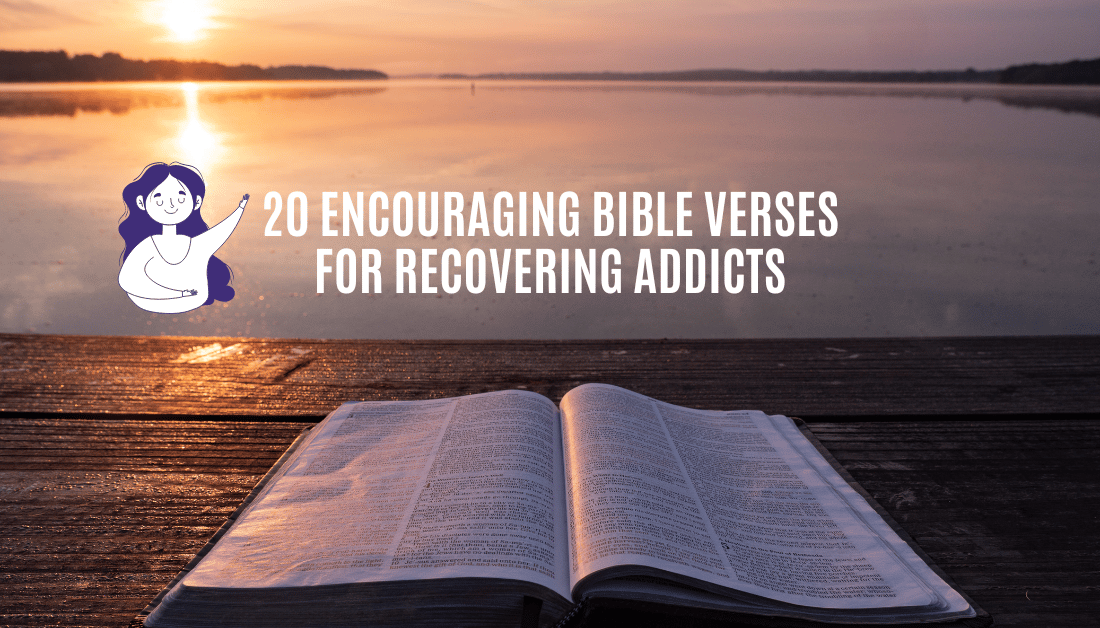 Are you, your family members, friends, or acquaintances struggling with addiction, substance abuse, anxiety, depression, or other mental and behavioral health issues? Are you on the road to addiction recovery? You might feel it's too hard to get your life back on track. However, the good news is the word of God will help you find the right path and make your healing process go smoothly.
Below, we've shared encouraging Bible verses which can help with your recovery from drug addiction, alcohol addiction, sex addiction, and other addictive behaviors. Please keep reading.
1. Matthew 11:28-29
"Come to me, all of you who are tired from carrying heavy loads, and I will give you rest. Take my yoke and put it on you, and learn from me, because I am gentle and humble in spirit; and you will find rest."

Alcohol addiction, drug addiction, and other types of addiction are indeed heavy loads you need to share with someone. This Bible verse reminds you Jesus Christ is there for you and you can find peace in Him. This also reminds the loved ones of recovering drug addicts they can gain strength from God, especially when they feel weak physically, emotionally, and spiritually.
2. John 14:27
"Peace is what I leave with you; it is my own peace that I give you. I do not give it as the world does. Do not be worried and upset; do not be afraid."

Families of recovering addicts may fear their loved one will overdose, harm themselves, or go back to their old habits after recovery. This Bible verse urges you to let go of your fears, welcome the peace of God, and have faith He will keep your loved one safe.
3. James 5:15-16
"And the prayer offered in faith will make the sick person well; the Lord will raise them up. If they have sinned, they will be forgiven. Therefore confess your sins to each other and pray for each other so that you may be healed. The earnest prayer of a righteous person is powerful and effective."

This beautiful verse highlights the power of Christ to heal you, to forgive you, and to regain the strength to move forward. You may have taken the wrong path with abusing alcohol or drugs, but you can always turn to God for guidance. This verse encourages you to pray and stay steadfast in your faith for a successful healing process.
4. Jeremiah 17:14
"Heal me, Lord, and I will be healed; save me and I will be saved, for you are the one I praise."

Addicts who are seeking treatment and want to maintain a sober mind can benefit from this Bible verse. Like Jeremiah, you have to trust God's promise. He remained faithful in spreading the Word of the Lord despite people's rejection. Include this verse in your prayer to help beat the power of addiction and to proclaim the power of Christ.
5. Corinthians 15:33
"Do not be misled: Bad company corrupts good character."

Temptations are everywhere, from old friends who may also be addicts, to places which trigger your temptation to falter. Let this Bible verse lead you back to the right path. Surround yourself with the right people, including family members and friends who truly care for you and actively try to help you recover from addiction.
6. Jeremiah 33:6
"Behold, I will bring to it health and healing, and I will heal them; and I will reveal to them an abundance of peace and truth."

The healing process following addiction treatment can be rocky. You have to deal with cravings, relapse, boredom, loneliness, and difficulty finding purpose. However, trust with your faith and love in Him, you will be healed and will receive the blessings of truth and the peace of God.
7. Zechariah 9:12
"Return to your fortress, you prisoners of hope; even now I announce that I will restore twice as much to you."

While you're on your way to recovery from addiction, you may feel hopeless. You will struggle to process difficult emotions like anger, stress, shame, and sadness. You may also have to deal with money or relationship problems. However, this Bible verse encourages you to hold on to hope because God will heal you and allow you to rebuild a better life with your loved ones.
8. Romans 5:3-5
"More than that, we rejoice in our sufferings, knowing that suffering produces endurance, and endurance produces character, and character produces hope, and hope does not put us to shame, because God's love has been poured into our hearts through the Holy Spirit who has been given to us."

While you wouldn't want to go through tough times, trials and sufferings, they allow you to grow and become stronger and braver in life. All those feelings of shame, loneliness, emptiness, and worthlessness will go away. With God's love, you'll receive the hope and courage you need to overcome addiction.
9. Galatians 5:19-21
"Now the works of the flesh are evident: sexual immorality, impurity, sensuality, idolatry, sorcery, enmity, strife, jealousy, fits of anger, rivalries, dissensions, divisions, envy, drunkenness, orgies, and things like these. I warn you, as I warned you before, that those who do such things will not inherit the kingdom of God."

Are you drawn to temptations and lust of the flesh while trying to recover from addiction? Use this verse to remind yourself all those sinful behaviors will keep you from entering God's kingdom. Thus, do not walk in the flesh but walk in the Spirit by trusting in God, communicating with Him, and patterning your life after Him.
10. Ephesians 5:18
"Do not get drunk on wine, which leads to debauchery. Instead, be filled with the Spirit."

This Bible verse suggests abusing alcohol will cause you to lose control and will only bring you harm. Rather, be filled with the Holy Spirit, so you can live a life full of peace, hope, and wisdom. This includes praying, confessing your sins, being grateful, and living in a way worthy of God's calling.
11. Peter 5:6-8
"Humble yourselves, therefore, under God's mighty hand, that he may lift you up in due time. Cast all your anxiety on him because he cares for you. Be alert and of sober mind. Your enemy the Devil prowls around like a roaring lion looking for someone to devour."

While working toward addiction recovery, you may feel anxious, hopeless, and empty. However, this verse urges you to leave all your worries to God. Submit to His will and be reminded God cares about you and loves you.
12. Titus 2:12
"It teaches us to say 'No' to ungodliness and worldly passions, and to live self-controlled, upright and godly lives in this present age."

This verse means the grace of God teaches you to resist worldly passions and anything which is not godly, including alcohol addiction and drug addiction. It also inspires you to maintain self-control and good morals and to build a closer relationship with God.
13. James 1:2-3
"Consider it pure joy, my brothers and sisters, whenever you face trials of many kinds, because you know that the testing of your faith produces perseverance."

This Bible verse for recovering addicts is a reminder to be glad about facing difficulties because that is how you become strong and persistent. These qualities are necessary for you to stay clean. The verse also tells the families and friends of recovering addicts this is just another challenge which they'll surely overcome together.
14. Hebrews 4:15-16
"For we do not have a high priest who is unable to empathize with our weaknesses, but we have one who has been tempted in every way, just as we are — yet He did not sin. Let us then approach God's throne of grace with confidence, so that we may receive mercy and find grace to help us in our time of need."

This Bible verse tells us like humans, Jesus Christ also experienced temptations but did not fall into sin. This means He can sympathize with our disappointments and weaknesses. He even paid the price for our sins. Although you were once lost due to addiction, this verse reassures you He will offer mercy and compassion.
15. Philippians 4:13
"I can do all this through Him who gives me strength."

While pushing yourself to recover from addiction, you may feel weak and lose hope and drive. You may feel ashamed and mad at yourself for ruining your life and the relationships you had with the people you value the most. Let this Bible verse help you bounce back with the knowledge God will give you the strength to carry on, overcome addiction, and create a new life afterward.
16. Matthew 6:13
"And lead us not into temptation, but deliver us from the evil one."

Temptations of all sorts will try to break your commitment to be free from addiction. These include people and places like bars and parties where you used to partake in drugs or alcohol. Make this verse part of your prayer to drive off those temptations and evil things.
17. Galatians 6:1
"Dear brothers and sisters, if another believer is overcome by some sin, you who are godly should gently and humbly help that person back onto the right path. And be careful not to fall into the same temptation yourself."

If your family members and loved ones are addicted to drugs or alcohol, be their support group. Actively listen to them, don't judge them, and be a great example by living a healthy lifestyle. That includes eating right and refraining from drugs and alcohol. Remember your goal is to help them recover and prevent them from falling into the same temptation.
18. Jeremiah 29:12-13
"Then you will call on me and come and pray to me, and I will listen to you. You will seek me and find me when you seek me with all your heart."

This Bible verse for recovering addicts says you can always seek help from God to ease your burden. Sometimes, dealing with trauma and shame, transitioning from addiction to an independent life, and repairing old relationships are just too much to handle. However, remember the promise He's willing to listen, and you will find Him if you willingly call to Him.
19. Mark 10:27
"Jesus looked at them and said, 'With men, it is impossible, but not with God; for with God all things are possible."

If recovering from addiction feels too hard and impossible, God's word is here to remind you with Him, everything is possible. The road to recovery might be rough, but God's grace will bring you healing. Moreover, the first step to healing is getting help. Thus, do not hesitate to ask the Lord for help because He won't abandon you.
20. Proverbs 20:1
"Wine is a mocker, strong drink is a brawler, And whoever is led astray by it is not wise."

You may experience withdrawal symptoms if you stop drinking alcohol. If you feel the urge to return to your old habits, let this verse from the New King James Version of the Bible remind you alcohol abuse won't do you any good. It will help you to not fall into that trap again.
Final Thoughts
The fact you're taking the road to addiction recovery is already a brave move. If you feel weak and discouraged, use these biblical verses above to help you remain on the right path. You are not alone in this battle. Seek God and He will help you find peace.
Sources: